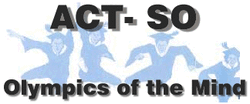 Sadie France Flucus, Chair
 ACT-SO nurtures academic and artistic excellence among high school students (regardless of their grade point average); while showcasing their academic achievements, entrepreneurial skills and artistic expertise. It partners with community organizations, schools, businesses and non-profits to provide high-quality mentoring and life enrichment opportunities while raising cultural awareness and developing leaders.
In both local and national competition, individual students compete against a set of criteria in up to three of 32 categories. Students must be amateurs in their areas of competition. Thirty-one of these categories are available to those participating in Louisiana programs. Categories are grouped into five broad categories: Business, Humanities, Performing Arts, STEM (Science, Technology, Engineering and Mathematics) and Visual Arts.
Business categories consists of Entrepreneurship and Culinary Arts. Culinary Arts is not one of the available categories in Louisiana. Humanities categories are: Music Composition, Original Essay, Playwriting, Poetry-Written and Short Story. Performing Arts categories are: Dance-Ballet, Dance-Contemporary, Dance-Modern, Dance-Traditional, Dramatics, Music-Instrumental Classical, Music-Instrumental Contemporary, Music-Vocal Classical, Music-Vocal Contemporary, Poetry-Performance and Oratory. STEM categories are: Architecture, Biology/Microbiology, Chemistry/Biochemistry, Computer Science, Earth & Space Sciences, Engineering, Mathematics, Medicine and Health and Physics. Visual Arts categories are: Drawing, Filmmaking, Painting, Photography and Sculpture.
Currently Louisiana ACT-SO has programs operating in three areas: Claiborne Parish, New Orleans and Ouachita Parish. Students can participate in either of the three but cannot participate in more than one.  For more information contact: Sadie France Flucas, Claiborne Parish and Louisiana ACT-SO Chairperson, at 318-927-6411 or sflucas@claiborneactso.org; Betty Cooper, Ouchita Parish Chairperson, at bettywcooper@gmail.com or Brenda Jackson, New Orleans Chairperson, at Brendajackson24@gmail.com